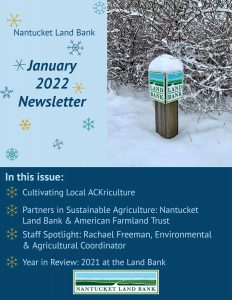 January 2022 Newsletter (PDF)
To kick off 2022, we are spreading the word about the Land Bank's growing agricultural responsibilities. We also take a look back on all that we accomplished in 2021!
---
September 2021 Newsletter (PDF)
In this issue of our newsletter, we reflect on Climate Change Awareness Month on Nantucket and how the Land Bank is involved in coastal resilience.
---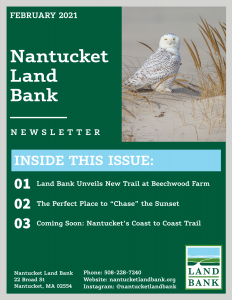 February 2021 Newsletter (PDF)
In our February 2021 newsletter, we share the exciting new projects we've been working on, including a new trail at Beechwood Farm, the recently completed dock at Hither Creek, and the progress of our Coast to Coast Trail!