Sanford Meadows is a scenic 165-acre property located on the Western end of Nantucket off of Madaket Road. Along with the Nantucket Conservation Foundation's neighboring Sanford Farm, this area was once part of a dairy farm. Due to a prolonged period of grazing by sheep and cows, much of the tall, woody vegetation typical of these areas has been removed. As a result, this property is now a rolling sandplain grassland, full of sedges, grasses, wildflowers, and a wide variety of other herbaceous species.
As you walk the two miles of trails at Sandford Meadows, you are sure to see a patchwork of rare and early successional species. Plants such as little bluestem, Pennsylvania sedge, goldenrod, dewberry, and various asters bring this meadow to life. To promote the growth of these unique species and maintain this ecosystem, the property is routinely mowed every few years.
To the east, this trail connects to the Nantucket Conservation Foundation's Sanford Farm property, and to the west, the expansive Head of the Plains.
Address
136 Madaket Road
Directions
Sanford Meadows is accessible via the parking lot at the intersection of Madaket and Barrett Farm Roads. From Town, drive west on Madaket Road. After passing Eel Point Road on the right, continue straight for 0.3 miles and turn left into the parking area.
Trail Maps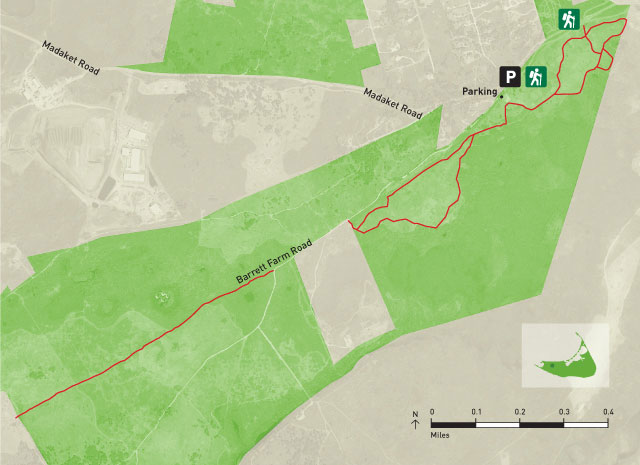 Property Marker

Land Bank trails are marked by the post shown here.