Hinsdale Park, located on Old South Road is a multi-use area containing mowed playing fields, a labyrinth and a trail system. From the parking area, a single trailhead leads to the labyrinth and a forested loop, which includes a connection to the Milestone Road bike path and the Land Bank's Milestone Crossing trail on the north side of Milestone Road.
The trees on the Hinsdale Property are primarily pitch pine, which are native to the eastern United States, but were most likely introduced to Nantucket in 1847 by Josiah Sturgis who planted them along the Milestone Road to serve as a windbreak. This species quickly spread and is now one of  the most common trees on Nantucket.
Directions
From the rotary, go out Old South Road and take your first dirt road on the left after Forest Avenue. There is a parking area a short distance down the dirt road.
Trail Maps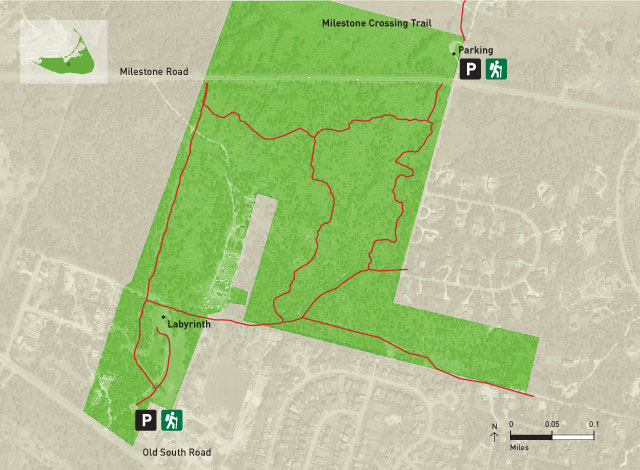 Property Marker

Land Bank trails are marked by the post shown here. Most Land Bank trails are created as loops and if you follow the arrows—the trail should return you to where you began.