Head of the Plains is a vast corridor of conservation land, with more than 1,000 acres jointly owned by the Nantucket Land Bank and the Nantucket Conservation Foundation. It contains sandplain grasslands and heathlands, shrub thickets, wetlands, and woodland habitats. Abutting this land to the east are the Nantucket Conservation Foundation's Sanford Farm, Ram Pasture, and the Woods properties. Between these properties, visitors can enjoy miles of hiking trails, beautiful views across Clark's Cove, and spectacular sunsets along the shoreline.
This area was part of the "common land" set aside by Nantucket's original shareholders for sheep and cattle grazing as well as for farming. Once these agrarian practices ceased in the early 1900s, grasses, sedges, wildflowers, and low shrubs adapted to growing in formerly disturbed soils and, consequently, became dominant. Some of the best examples of sandplain grassland on Nantucket are now found in Head of the Plains, due in part to its historic agricultural use. This unique habitat provides nesting and hunting habitat for northern harriers, an endangered bird of prey. The area is also home to rare plant species such as New England blazing star, sandplain blue-eyed grass, and bushy rockrose. Today, this ecosystem is maintained through a combination of habitat management strategies including routine mowing and prescribed burns.
Address
Barrett Farm Road
Directions
From town, drive west on the Madaket Road. Take a left onto Barrett Farm Road and continue straight over the bike path. There are several parking areas along Barrett Farm Road.
Trail Maps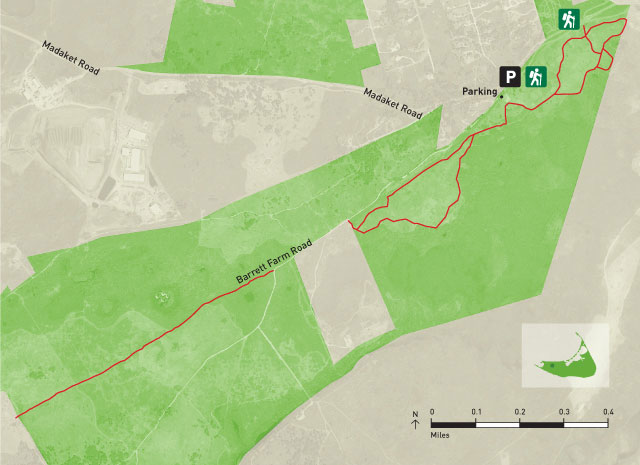 Handicapped parking to accommodate wheelchair access is available.
Property Marker

Land Bank trails are marked by the post shown here.