At 610 acres, the areas known as Sanford Farm West and Head of Plains represent one of the Land Bank's largest contiguous holdings and abut an additional 436 acres of land owned by the Nantucket Conservation Foundation. This vast area of grassland, shrubland, and pine forest includes a network of dirt roads and the Land Bank's Sanford Farm West and Head of the Plains trails. Beginning at the Barrett Farm Road parking area, the Sanford Farm West Trails offer a series of short grassy loops that can be walked independently or used to connect to the Head of Plains trails that lead south towards the western edge of Hummock Pond and the ocean.
Directions
From town, drive west on the Madaket Road. Take a left onto Barrett Farm Road and then an immediate left over the bike path and into the parking area.
Trail Maps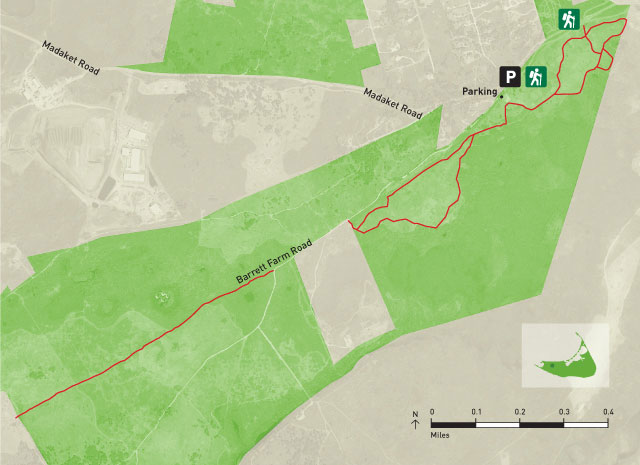 Handicapped parking to accommodate wheelchair access is available.
Property Marker

Land Bank trails are marked by the post shown here. Most Land Bank trails are created as loops and if you follow the arrows—the trail should return you to where you began.